This year I decided to take the National Novel Writing Month challenge. The challenge is to write 50,000 words of a novel in 30 days. Well, 30 minutes ago, I won and got this really neat poster.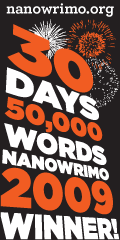 Yay! Now for a month or more of editing! :-/
Now to celebrate winning!
Check back tomorrow to find a chance for you to win something. :-)